A carefully planned marketing strategy is an essential area to work through when starting a holiday rental business. It will ensure that your property is placed in front of the correct target audience and create more opportunities for guests to discover and book your home.
There are many ways to optimise your online presence without spending large quantities of money on a marketing budget. If executed well, there's potential to reap the same rewards from organic advertising as paid. Let's look at four online marketing strategies that work well for holiday rental businesses, and any potential costs involved.
Listing your Property with Online Travel Agents
Working with multiple OTAs is a great way to increase your business's exposure online, and most companies will agree to non-exclusive property listings featuring on their website. The big players you'll want to work with include Airbnb and Booking.com, but there are an abundance of smaller self-catered holiday home travel agencies that you could partner with online, alongside your own holiday home website. Many focus on niches such as location or property type, so research which company suits your property best and which could bring the maximum income to your business. The Pets Pyjamas focuses purely on accommodation that allows guests and their four-legged friends to visit, whereas Canopy and Stars hone in on properties that include an element of wild living.
As a holiday homeowner, you'll be charged a commission fee for any bookings taken through these websites. This cost usually falls within 6% and 20% of the total booking value. Consider these costs when working out your margins and identify any contractual obligations associated with OTA partnerships. They may be great to work with in the early stages, but you could receive more bookings directly when you have gained a loyal customer base.
When listing your property across multiple OTAs, you'll also need to invest in a channel management system that will sync all your reservations onto one master calendar.
Optimising Holiday Property Descriptions for Search Engines
Detailed descriptions of your holiday rental's layout, facilities, and local amenities will not only help guests decipher the suitability of your home, but will also maximise your exposure online. Implementing a successful SEO strategy will allow guests to discover your property organically online by inputting key travel related words into the search bar.
Consider the phrases potential bookers use when searching for a holiday property online and add them to your property description. Detail helpful transport connections, popular tourist attractions, and any local events that may interest guests. Hyperlink these suggestions if possible to enhance your SEO. You can hire an SEO expert who specialises in creating content that will stand out on Google, with the goal of appearing on the first page of search results. Alternatively, you can use online keyword research tools and write your own descriptions to capture the hearts of potential guests.
Advertise your Holiday Property through Enticing Photography
The first thing a potential booker will do when browsing through holiday let listings is click through the photo gallery, even before reading the description and understanding if it suits their needs. Imagery is the most powerful marketing tool at your disposal, so it's vital you get it right.
Two avenues a property owner can take include hiring a professional or fulfilling the task personally. Using an experienced property photographer is the recommended approach. They'll be well-versed in photographing houses, and know all the right angles and details to capture. Images of interior areas that may be problematic for mobility are just as important as artistic home decor shots. Provide guests with as much visual information as possible, and don't forget to add alt text when loading them online, as this will also improve your property listing's SEO. The average cost of a professional property photographer in the UK varies (it can range between £100 and £1000 depending on the size of accommodation and the extent of the end deliverables required), but the investment is well worth it in the end.
Attract Potential Guests through various Social Media Channels
The power of social media is no secret, and business owners should utilise the platforms to connect with clients regardless of the industry they operate in. As a holiday homeowner, content subject matters include interior design, local travel interests, discounts, last-minute availability, vacation competitions, and more. Guests will be more likely to book your holiday home if they are invested in your business story and are familiar with the faces behind the brand.
Social media also provides a great space for you to discover and connect with other local businesses that can offer services such as housekeeping, garden maintenance, and welcome hampers. Build a community that will support your business operations while simultaneously boosting the marketing of your holiday home online.
The best thing about social media is that you can access an unlimited audience for free, which is perfect for small business with a limited or non-existent marketing budget. You'll often need patience to see results, but if the content you share is interesting and authentic, you'll soon reap the rewards of your efforts. When the bookings start to flow, and your revenue picks up, consider investing in a paid social media strategy structured by a professional digital marketing agency. They'll ensure you're maximising your advertising presence online.
Summary
UK staycations are currently in high demand, and industry experts believe this trend is set to stay even when the Coronavirus pandemic is long forgotten and UK airports are operating smoothly. Purchasing a property has always been considered a great investment, and starting a holiday rental business is a great opportunity to maximise your income while owning it. Competition can also be tough, and the number of registered holiday property businesses in the UK is increasing everyday. Creating a foolproof online marketing strategy will help ensure your rental business is a success.
Guest post by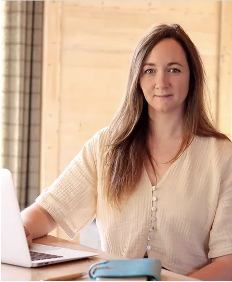 Laura Percival
Head of Content @ Holiday Owners Hub
Holiday Owners Hub is a UK holiday property business guide that provides homeowners with the necessary resources needed to run successful short-term holiday rentals.