For holiday let owners, getting to grips with the business elements of renting out your holiday property can be a daunting task. From insurance to sales agents, cleaning and maintenance, to the business financials, there's often a lot to consider and work through.
In this article, we guide you through the insurance aspects of holiday let businesses, helping you to understand how to protect your business, property, customers and yourself from any potential problems arising when you rent out your holiday property.
Understanding the term 'holiday let'
Let's start by clarifying the term 'holiday let'. If you own a property that is rented out on a short-term basis to paying guests, then this is termed a 'holiday let'.
You may also hear the term 'holiday rental'. In essence they both mean the same thing. By using the words 'let' or 'rental' it implies that you are charging guests to use it.
It's not to be confused with the term 'holiday home', which refers to a second property that you own but don't rent out to guests.
Holiday let insurance
You may own one or two holiday lets, or you may be lucky enough to have a portfolio of properties. Whether you're just starting out, or a seasoned expert, it's important to remember that you will need to have the right property insurance in place – that covers your buildings and contents under rental conditions.
Most general insurance providers see holiday lets as a greater risk than a home which is occupied continuously by the owners, and will therefore not offer cover for holiday let properties. But thankfully there are specialist holiday let insurance providers that make buying a policy painless and cost effective. We'll cover some of these providers in this guide.
What if I don't have holiday let insurance?
You may be wondering what happens if you don't have specific holiday let insurance, yet you rent out your holiday property. There are a few implications to consider here:
Holiday let mortgage providers will usually insist that you have adequate insurance to protect their investment. If you don't obtain the right level of cover then you may find it difficult to get a mortgage. If, however, you don't have a mortgage on the property then you won't need to worry about any mortgage provider's requirements here.
Holiday let insurance covers damage to properties that are left unoccupied for longer than 30 days (typically up to 60 days). Because holiday let properties often have longer unoccupied periods, this is an important benefit. Should you be unlucky enough to have a water leak for example, serious damage can be done over this time period, which may not be covered with standard insurance if the property has been empty for over 30 days. Likewise, if a theft or claim occurs whilst the property is unoccupied over the quiet months then normally, subject to some requirements, you'll be covered.
Holiday let insurance can cover damage caused by other people (i.e. guests). Although most guests will take good care of your property, accidents do happen and expensive items can get broken. These can be covered by your holiday let insurance (under accidental damage options) which can save you lots of money in replacing broken appliances and fixtures/fittings.
Property owners liability insurance is a key consideration. Whenever you sell anything to the public, there is a risk that you could be found negligible for any accidents, injuries or, at worst, deaths that occur on your property. Property owners liability insurance and legal expenses offer great comfort as costs and ramifications can be considerable if you don't have the right cover. You can check out our top public liability insurance providers for holiday let owners for this, although they should be included in your holiday let insurance.
If you use third party sites to market your property, quite often they will ask you to have holiday let insurance. The more professional you are with your business, the higher rates you can demand and more often than not, the higher your occupancy rate.
Holiday Let Insurance will provide loss of rental income protection if your guests cannot use the property due to an insured event.
Is holiday let insurance different to general home insurance?
Holiday let insurance should cover you for the following circumstances that general home insurance won't protect against:
Damage to buildings or contents for properties remaining empty for up to 60 consecutive days (rather than the typical 30 day maximum)
Property Owners Lliability insurance
Landlords' contents
ID fraud
Alternative accommodation if your property is uninhabitable
Loss of rent
Employer's liability insurance
Theft and malicious damage caused by guests
Accidental damage caused by guests
Legal expenses
You should check each policy thoroughly as some of these may not be available or considered optional extras rather than being included as standard.
How does holiday let insurance differ to landlords' insurance?
Landlords' cover protects buildings and contents for properties rented out on a longer-term basis, typically 6 months or longer to the same occupants. Landlords' insurance may not offer you the following protection:
Damage to buildings or contents to properties remaining empty for up to 60 consecutive days. You can however purchase a separate 'unoccupied property insurance' on a month-by-month basis for houses unoccupied for longer than 30 days.
Damage caused by longer term deterioration e.g. water leaks, although landlords insurance may cover sudden damage caused by burst pipes or natural disasters.
Malicious damage or theft caused by a tenant.
Landlords' cover can protect you against loss of rental income in a case where the tenant doesn't pay their rent, whereas holiday let insurance tends to cover loss of revenue only when the property is damaged. Although cancellation insurance for holiday let owners is available from a few, select providers. This will refund revenue lost from holiday let booking cancellations, protecting your bottom line and offering financial security.
Landlords' insurance can also cover rent arrears, tenant eviction and other specialist areas as optional extras.
What should you look for when buying holiday let insurance?
Everyone's reasons and requirements for holiday let insurance will be different, so it's important that you select the right one for you. Typically, the following cover features are available, although some come with this cover as standard, whilst others may have them as added extras. Here are some of the key features you should be looking for when you buy cover for your holiday let.
Liability Insurance of up to £5million. This protects you if a guest claims that they have suffered injury or loss caused by a problem with your property, for which they hold you negligible. You can read more about public liability insurance. It's worth having this included as part of your holiday let policy rather than a separate general policy as it makes your overall insurance cost cheaper.
Legal expenses cover. If a guest decides to take you to court, or if they refuse to vacate your holiday let, don't pay your bill etc, then the legal expense of dealing with this can mount up quickly. It's worth including legal expenses – whether as standard or as an optional extra, to protect you from crippling business costs should this eventuality occur.
ID Fraud. ID fraud can be very distressing for both guests and holiday property owners. The press regularly highlights stories of guests spending their hard-earned money on luxurious holiday villas only to find that the properties never existed, so fraudsters are well known to dupe consumers on bogus holidays. Holiday let owners are also at risk of identity fraud, and appropriate protection will cover advisors' costs to defend your legal rights and/or take reasonable steps to remove county court judgements against you, obtained by suppliers you are alleged to hire or purchase services or goods from fraudulently. A legal helpline is usually also provided to offer support.
Buildings insurance. Look for accidental damage, theft and malicious damage, fire and water damage (including that which is caused by guests), keys & lock replacement/repair and emergency cover. These are all options that are worthwhile opting for.
Contents insurance. Look for accidental damage, theft and malicious damage, and landlords contents cover for your holiday let.
Revenue protection. Alternative accommodation whilst your property is uninhabitable will ensure that your guests have somewhere to stay, whilst loss of rental income will protect your bottom line.
All of these should be valid for a property that is unoccupied for up to 60 consecutive days, and let out on a short term agreement.
So, now you know what holiday let insurance is and why it makes sense to buy the right policy for your property, where can you buy holiday let insurance? Whilst some may worry about the cost, it's not as scary as it may seem. Let's look at some of providers on the market and what makes them unique.
Holiday let insurance providers
Policy Powerhouse
A new provider for 2022, Policy Powerhouse launched 'Holiday Lets', a building and contents insurance policy designed to protect holiday lets. The company was set up with the purpose to provide non-standard insurance products that aren't readily available from the larger aggregators, finding a niche in making it easy to get cover for more challenging requirements.
In addition they have partnered with an industry data provider to pre-populate your data, meaning that when you get a quote you don't have to fill everything in from scratch. Bliss! (Note: aggregators typically ask 30-40 questions in the quote process, and may not even then be able to offer a quote).
Getting a quote only takes between 1 and 2 minutes, and you can also complete the purchase online, unlike other providers where you have to call them to run through the details before a final purchase can be made.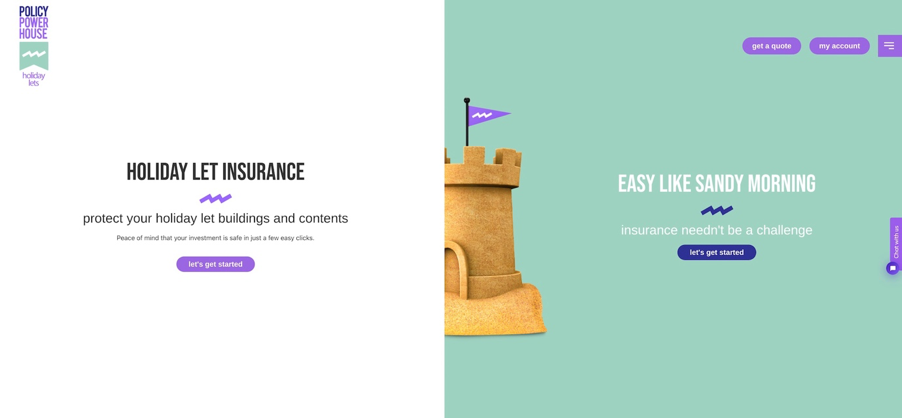 Get a Holiday Lets quote from Policy Powerhouse
Schofields
Schofields is a holiday home and holiday let insurance specialist, and seem to have a reliable reputation as a family run business with personal service since 1984.
Schofields doesn't offer a modern website or the benefit of pre-filled data when you go through the quotation process online. When trying to get a quote they asked for rather a lot of information that I didn't have to hand like current policy providers, and cost of rebuild. Whilst this took up time and made the quotation process rather arduous, I could select from:
– Buildings, contents or both
– Optional accidental damage to buildings or contents
– Optional legal expenses
– Voluntary excess ranging from £0 to £500
I had to answer 9 questions yes/no around subsidence, flooding, whether the property is undergoing renovations, near a river etc. Then answer details about the length of the rental season, links to any rental listings and reveal how often it is inspected.
Following this I was asked about additional business activities being carried out on the site, mortgage provider interests, as well as utilities details e.g. water and electrical supplies, whether there are septic tanks, solar panels etc.
Next was the previous claims history, CCJs and criminal convictions etc before at the end, you could submit your application.
Rather disappointingly, at the end of all this there was no instant online quote provided. Instead, a phone conversation is required in order to obtain a quote and purchase a policy, so there's no quick and easy purchase with Schofields. This whole process up to the submit button takes at least 7 minutes, making it much longer than the pre-filled experience of Policy Powerhouse, and not giving me the desired results at the end of it.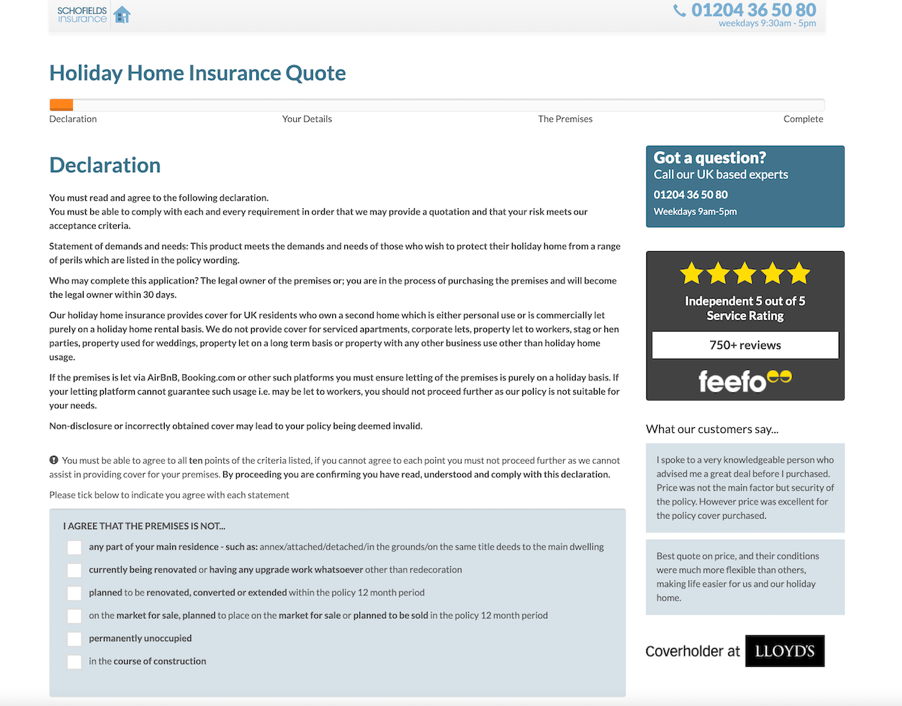 However, reviews suggest that they respond quickly, and their feedback is excellent with a 4.9/5 Feefo review. You can check out their reviews here.
So if you have time and patience on your side then they're worth a look.
Home Protect
The Home Protect quotation process is more intuitive and looks cleaner than the Schofield's one, with less text – making it instantly feel like an easier process. Starting with the house details makes more sense, and what I'd expect, rather than lots of conditions thrown up by Schofields that puts you off from the very beginning. With Home protect, you still need to fill in the property construction details, unlike Policy Powerhouse where this is pre-filled for you.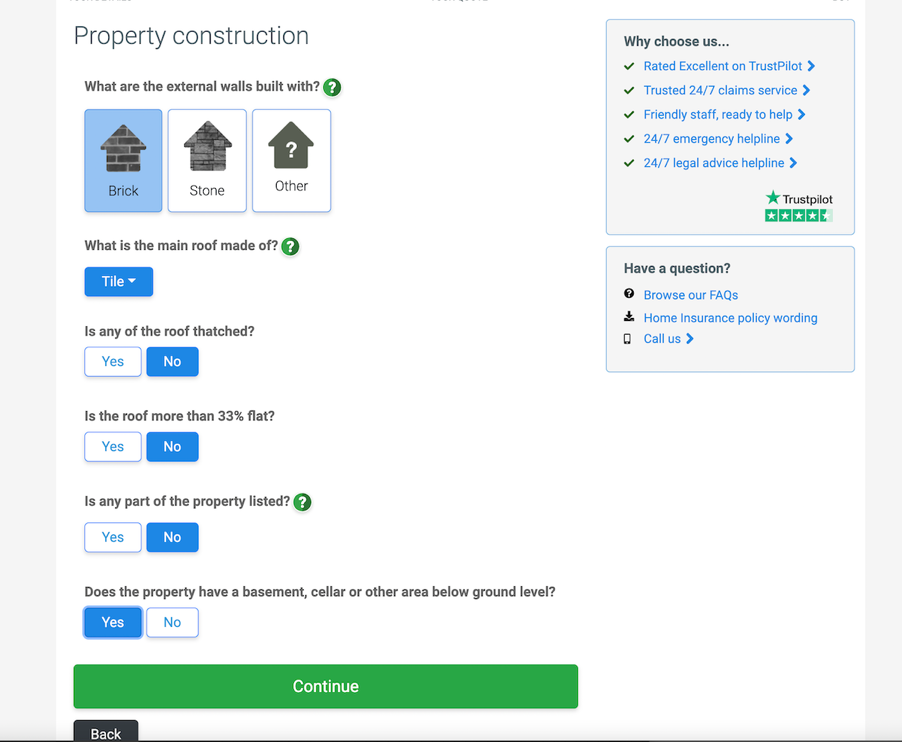 Again, they ask you to enter your rebuild cost, rather than providing this for you like Policy Powerhouse does. And you are required to answer the usual questions about subsidence, landslides, structural movement, state of repair, cost of repair of outbuildings (which is automatically set to £7,500 – a nice touch).
With Home Protect, they do automatically make assumptions for you which helps you on the process, however these are subtle, so I found myself going through clicking each of before realising that I didn't have to, taking away the benefit of their assumptions.
They take you through locks on all windows and doors unlike Policy Powerhouse and Schofields, which is always a difficult one to understand and get right, followed by the standard contents cover as your regular home insurance policy would.
Alarm bells started ringing when it was asking for details of any cover for individual items like bikes, computers, jewellery. I wouldn't expect this on a holiday let policy, instantly making me wonder whether this is actually a holiday let policy. But if you do have expensive paintings on the wall then at least you can insure these.
I got confirmation that this is not a true holiday let insurance policy when it asked about how the property is used and who lives there. Whilst you can state it is used for a short term let, the next section asks how many adults and children live there, when it is occupied and how long it is left unoccupied for each year. All of these are impossible to answer for a holiday let property. Giving an estimation though, I was able to proceed. The quotation process for home protect took around 6.5 minutes, without really delving into the answers properly.
It did trump Schofields for me in the sense that you get an instant quote online, but had the drawback of not convincing me that it totally meets my requirements. This element of doubt means that I would rather opt for a more specific holiday let insurance that I know will be fit for purpose and actually pay out when I need it to.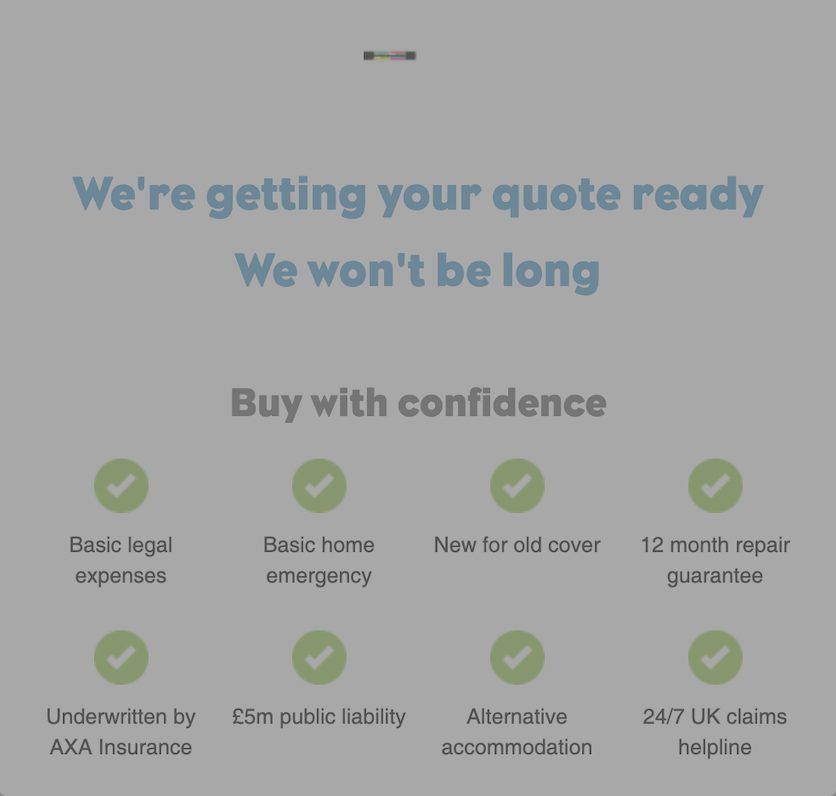 Home Protect as a business has a Trustpilot score of 4.2 out of 5, you can see the reviews here. They seem to cover all insurance policies rather than just holiday let cover.
Boshers
Boshers claim to have over 30 years in the industry and look like they offer an attractive holiday let insurance that covers the key elements. Their public and employers' liability extends to £10 million, if you feel that the recommended £5 million isn't enough for you.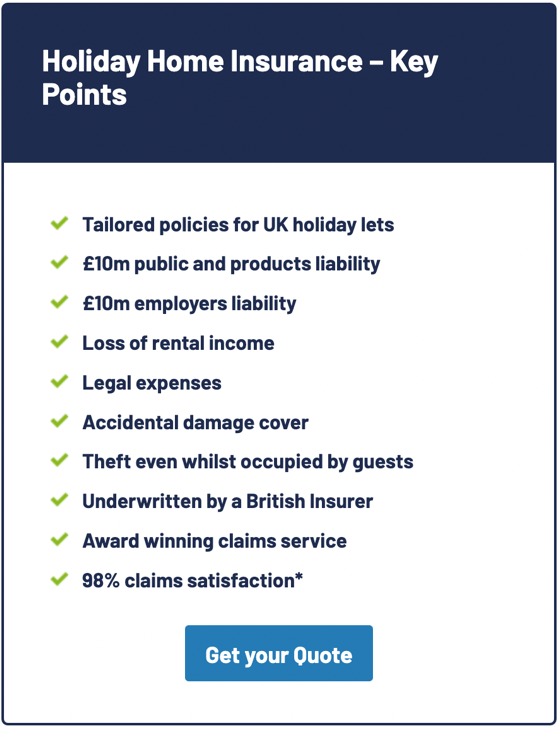 If you prefer to chat to a person and go through the quote process over the phone, then Boshers is certainly worth exploring, but as this is the only process they offer for buying insurance, we really can't determine how lengthy that process is and how easy or difficult it is to buy.
When it comes to reviews, we could only find a freeindex review listing, which had a very mixed bag and not many with which to form a conclusive judgement. So, whilst we can't offer much information on Boshers, you could explore it further yourself.
Summary
Owning a holiday let has become ever more popular as an investment model, with savvy investors identifying the opportunity to purchase property with their sights on the long term benefits that come with house price rises. The rental income in letting the property covers the mortgage and maintenance costs, and the property rises in value, making this a sound investment option. But you are also running a business, and it pays to protect yourself from unneeded stress. If you can do this, then you should be able to reap the enjoyment and rewards of a holiday let business.